About
We focus on co-design partnerships with educators in creative learning and project based learning contexts. We collaboratively design learning technologies by bringing together an interdisciplinary team across HCI, design, architecture, educational research and computing. This group focuses on finding opportunities and addressing problems of practice in real-world learning by innovating with low-cost, emerging technologies. We currently focus on creative documentation and evidence collection, and creativity support tools for novices to learn physical computing.
Current Projects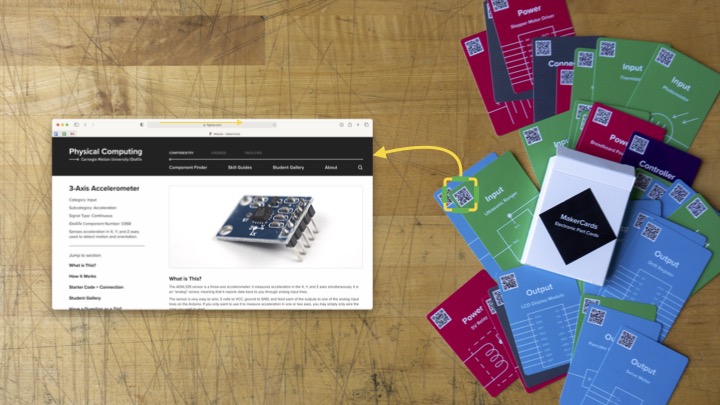 MakerCards: are an instructional and creativity support toolset for introductory physical computing courses. It builds on a QR-code enabled card deck illustrating electronic parts and categories linked to an online knowledge base to help bridge access to creative know-how. Through deployment in five courses, we found the MakerCards+ system to be a versatile resource for learning to recognize electronic components; enhanced communication in early designs and in debugging; and an aid in schematic diagramming.
SDL Evidence Collection Kit is a hybrid documentation toolkit for high school students that spans home to school settings. The SDL curriculum offers students a flexible, and interest-driven learning experience where students pursue various competency-based micro-credentials which they earn by collecting evidence of progress and learning. The SDL documentation poster kit integrates a visual progress tracker linked to a digital system for uploading, tagging, explaining, and curating evidence. The kit was deployed in Spring 2021 to over 60 students.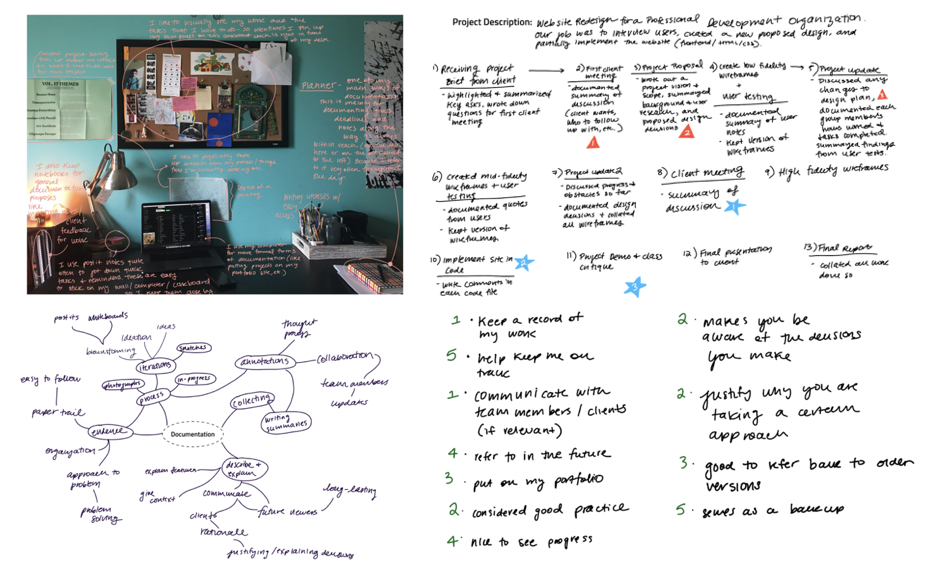 Probing Documentation Practices: Using a research-through-design approach, we have deployed a design probe to examine students' current understanding, contexts, values, and experiences with documentation and its integration with technology, space, and education. It unfolds as a series of five activities completed over a one-week period. It helps reveal how students have been navigating documentation practices and how students share common values in how documentation connects with deeper learning processes.
People and Affiliates
Lead Faculty
Marti Louw, Director, Learning Media Center, Human-Computer Interaction Institute
Daragh Byrne, Associate Teaching Faculty, School of Architecture
Current
Sara Longo, Project Manager, Human Computer Interaction Institute
Chris Bartley, Research Programmer, Robotics Institute
Talia Stol, Research Associate, Learning Research & Develpoment Center, University of Pittsburgh
Peter Wardripp, Assistant Professor of STEAM Education, University of Wisconsin-Madison
Alumni
2021: Aastha Patel, Masters of Educational Technology and Applied Learning Science (METALS)
2021: Anjali Kanodia, B.Architecture, CMU
2021: Min Kyoung Lee, Masters of Design, CMU
2021: Perry Naseck, BA School of Art, CMU
2020-2021: Miso Demko, BA Social and Decision Sciences, CMU
2019-2021: Ricky Chen, BA. Design, CMU
2019-2021: Miranda Luong, BA. Design, CMU
2020: Patricia Yu, B.A. Design, CMU
2020: Natalia Zeller MacLean, Cornell
2019-2020 Elizabeth Han, BA. Design, CMU
2019-2020 Eric Gan, BSc. Computer Science, CMU
2017-2019: Wei Wei Chi, Master of Computational Design, CMU
2017-2019:Jean Zhang, BSc. Mechanical Design
2018-2019: Alice Fang, Design, CMU
2019: Shirley Zhou, BSc. Information Systems.
2019: Emily Chan, Harvard
2017-2018: Francis Carter, PhD in Design
2017-2018: Samantha Weaver, MA, METALS, CMU
Practice Partners
Publications
Presentations
Funding and Grants
National Science Foundation. This material is based upon work supported by the National Science Foundation under grant no. IIS-1736189 'Smart Spaces for Making: Networked Physical Tools to Support Process Documentation and Learning'.